Nano steam penetrates deep into the fibers, thoroughly cleaning the deepest area.
Kill Bacteria, Viruses, and Mites
Rapid, Uninterrupted burst of nano steam
Sanitize Naturally
Compact & Handy
5 Multi-purpose accessories to fulfill all needs
| | |
| --- | --- |
| Product ID: | JNC-NSS270-GY |
| Rated Voltage: | 220 V - 240 V~ |
| Rated Frequency: | 50 - 60 Hz |
| Rated Power: | 1100W |
| Steam Volume: | ~25 ml/mins |
| Weight: | 1.2kg |


JNC Nano Steam Sanitizer
Nanoscale steam
Nano steam penetrates deep into the fibers, thoroughly cleaning the deepest area.
Kill Bacteria, Viruses, and Mites
Water heated to over 120℃ removes dirt and kills up to 99.99% of viruses, mites, and bacteria.
Rapid, Uninterrupted burst of nano steam
Steam comes out within 40sec. 270ml water tank capacity ensures 10mins of continuous bursts of steam.
Sanitize Naturally
Nano steam sanitizes and eliminates odor with no chemicals.
Compact & Handy
Portable and lightweight, ergonomic design suitable for indoor and outdoor use.
5 Multi-purpose accessories to fulfill all needs
Cone nozzle, T-shaped nozzle, Nylon Brush, Brass Brush, Window scraper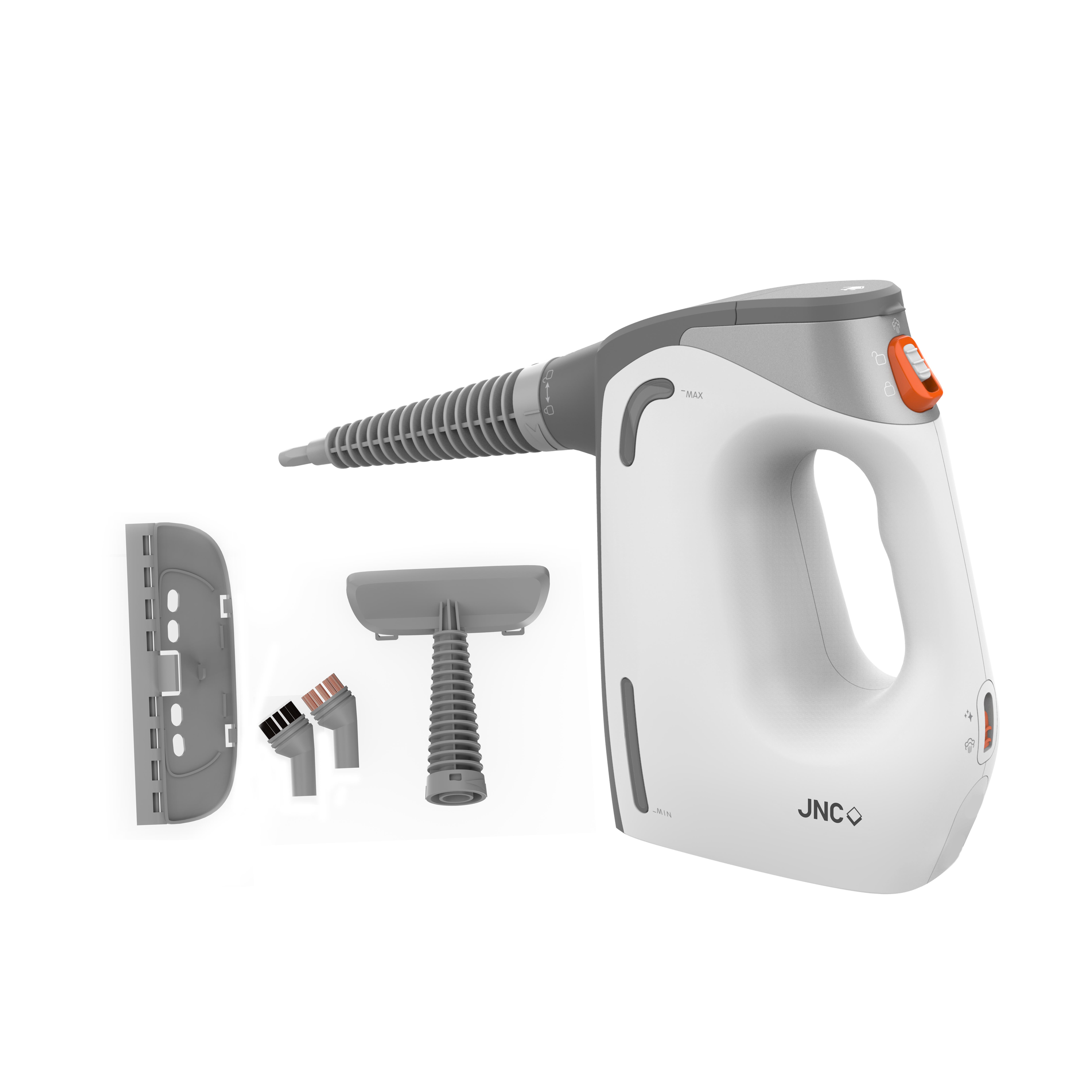 Product Specification
Product model : JNC-NSS270
Voltage: 220 V -240 V~
Frequency: 50 -60 Hz
Rated power: 1100 W
Maximum steam pressure: 3 Bar
Water tank capacity: 270 ml
Product Weight: 1.2 kgs
Product Size : 24(W) x 10(L) x 30(H) cm
Color: Gray
*Each unit was tested before shipped out from factory, to ensure it met all the standards.
It is normal if small amount of water remained in the water tank.
Analysis Result
Germ/Virus Killing / Inactivation Rate
Influenza A virus H3N2 >99.99%
Influenza A virus H1N1 >99.99%
Escherichia Coli 98.3%
Staphylococcus Aureus 96.4%
Canadida Albicans 98.3%
Pseudomonas Aeruginosa 99.4%
Salmonella Aertrycke 98.3%
Mites >99.99%
Delivery Cost
Free
Warranty
Two Years
After-sales Support
Please refer to the Maintenance Terms for your reference.
---